Weddings in April - October
Try our Wedding Package of White Super Stretched CaliforniaLlimousine! - Also make sure to ask about our brand new SUV Limousines!


New white super stretched limousine weddings. Pom-Poms (to suit the brides maids dresses), Red carpet, a "Just Married" sign, ice and glasses, bottled water. Please call for details.

Exotic white SUV limousine, Pom-Poms (to suit the brides maids dresses), Red carpet, a "Just Married" sign, ice and glasses, bottled water. Call for details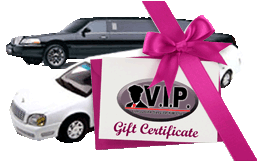 GIFT CERTIFICATES
We are now offering V.I.P. Gift Certificates in $100 increments to treat someone special to a ride in one of our limousines. Perhaps a birthday celebration or just a dinner at a favourite restaurant with friends.
Whatever the occasion, one of our V.I.P. Gift Certificates will make a perfect gift for a most memorable outing!

VIP REFERRALS
We are now pleased to offer our V.I.P. Referral Program. Every customer to refer a friend for a limousine service with V.I.P. will be given credit towards a limousine rental. Each referral gives a credit of $50 that can be put towards an eventful evening out with friends, or any other occasion of your choice.